Help and Resources for Our Business Community
We know many of you are facing a very stressful situation during the Covid-19 pandemic and are trying to figure out the best way to get your company through these challenging times.  Below, we have outlined several business resources that may be helpful during this evolving time.  We will get through this challenge together.
New Hampshire is making immediate and broad expansions to its unemployment benefits program.  This will enable more people to access resources quickly and is information you can pass along to businesses and employees. This information is evolving, so we are bringing you what we know now and encourage you to keep checking New Hampshire Employment Security's website for more details:  LINK
Layoffs and business closures: If your business faces a potential layoff, the State of New Hampshire offers services through its Rapid Response program. Rapid Response is a comprehensive, collaborative and immediate initiative to respond to and mitigate layoffs and closures. Rapid Response benefits both employers and employees through services to workers who are laid off, as well as layoff aversion information for businesses.
Employers facing potential layoffs or closures should contact Joe Doiron at Joseph.Doiron@livefree.nh.gov, 603-271-0146, to activate a Rapid Response team. More information can be found at NH Works.
The U.S. Small Business Administration (SBA) is offering a direct federal loan program to aid in recovery. Small businesses, private non-profit organizations of any size, small agricultural cooperatives and small aquaculture enterprises that have been financially impacted as a direct result of the Coronavirus (COVID-19) since Jan. 31, 2020, may qualify for Economic Injury Disaster Loans of up to $2 million to help meet financial obligations and operating expenses which could have been met had the disaster not occurred. Loans may be used to pay fixed debts, payroll, accounts payable and other bills that can't be paid because of the disaster's impact. This is a direct program, meaning you will need to create an account and apply directly.  More details: LINK
Public Health and Support: New Hampshire Department of Health and Human Services (DHHS) provides services to ensure the health and well-being of citizens during a layoff. Dislocated workers can discuss healthcare options, apply for food stamps, cash assistance, medical assistance, childcare and medical savings. Individuals can apply online at NHEasy or by calling 603-271-9700.
Employees experiencing layoffs: The State of New Hampshire offers a number of  services for employees who have been laid off. New Hampshire Employment Security has a list of available services. Individuals will need to file for unemployment each week of temporary unemployment and this can and should be done online or by calling 603-271-7700.
Unemployment Benefits: Individuals who are unable to work or who have reduced hours due to the COVID-19 pandemic will have immediate access to unemployment benefits. Anyone in the following situations will now be eligible for state unemployment: If your employer temporarily closes due to COVID-19; Individuals that need to self-quarantine or are directed to quarantine at the instruction of a healthcare provider, employer or government official; Individuals that need to care for a family member that has COVID-19 or is under quarantine; Individuals that need to care for a dependent because of school closures, child care facility closures or other similar types of care programs; Self-employed individuals that are temporarily unable to operate their business because of any of the above listed situations will also be eligible.  More details: LINK
Our Business is Helping Business
WEDCO's mission is to promote and support businesses and the creation of employment opportunities by providing development assistance and financing.
The purpose of WEDCO's financing is to retain and create employment opportunities for area residents.  The primary criteria is the retention and/or expansion of the regional employment base, leveraging additional financial resources, and demonstration of the borrower's ability to repay.
WEDCO is a private nonprofit 501 (c)(3) regional economic development corporation serving businesses of all sizes in the New Hampshire towns of Brookfield, Effingham, Farmington, Milton, Middleton, Moultonborough, New Durham, Sandwich, Tuftonboro, Wakefield, Wolfeboro, etc.

The New Hampshire Small Business Development Center (NH SBDC) partnering with Wentworth Economic Development Corporation, Inc. (WEDCO) are offering business advising weekly. These services are free and confidential to aspiring and active business owners in Wolfeboro...
read more
Newest SBDC business advisor introduced during event a new Wolfeboro business. For more than 25 years, the Wentworth Economic Development Corporation (WEDCO) has been helping locals navigate the landscape of starting and running a business. And now thanks to a...
read more

Amy Sterndale, SBDC Business Advisor will be available for entrepreneurs via phone, one-on-one meeting, etc. Amy Sterndale is a Seacoast and Wolfeboro area Business Advisor at the SBDC. She was most recently the owner of Sterndale Strategic, a communications and...
read more
NH Department of Labor - Labor Law Training Seminar Join us for an overview from: Steven McKinney from U.S. DOL As a small business employer, you need to know the rules and regulations of the Fair Labor Standards Act (FLSA). The U.S. Department of Labor...
read more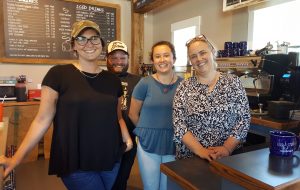 Despite running into roadblocks when it came time to obtain financing from traditional banks, Kimberly Prause, owner of the Cup and Crumb in Moultonborough, turned to Wentworth Economic Development Corporation (WEDCO).  From WEDCO, she received a $65,000 loan to work in concert with a construction loan from Meredith Village Savings Bank.
"Without WEDCO, I don't think we would have opened," Kim says, looking back. And certainly, Cup & Crumb would never have become an anchor in the newly opened Berry Pond Corner with two full-time and 12 part-time employees in summer, and 8-9 staff in winter.
Kimberly Prause
Thank You to Our Partners
Our Region
WEDCO provides economic development services to the businesses and communities of Brookfield, Effingham, Farmington, Milton, Middleton, Moultonborough, New Durham, Tuftonboro, Wakefield, Wolfeboro and surrounding New Hampshire communities.