Wolfeboro – People have wondered about Mona Lisa's smile for years, but there's no mistaking the smile on Denise Roy-Palmer's face now. The Executive Director of Wentworth Economic Development Corporation (WEDCO) grins from ear to ear as she explains her organization's part in the new "Discover Sandwich" advertising campaign.
"The sole mission of WEDCO is to support increase the economic vitality of our 11 towns. Sometimes that means offering training and business support. Other times it means giving advice and loans. At other times it means helping grass-roots initiatives come to life. I can't tell you the pleasure we get from the recently-launched campaigns of 'Discover Sandwich' and 'The Moose, New Hampshire.'"
In the case of "Discover Sandwich," WEDCO has worked alongside a The Sandwich Business Group who is eager to bring more people to Sandwich, a quaint town nestled on the shore of Squam Lake at the foot of the White Mountains. It's a quiet village now, but in the 19th and early 20th centuries, it was a bustling magnet. Wanting to share the beauty of their town and the neighborly spirit of its independent businesses, 'Discover Sandwich' has launched a print and digital marketing campaign to entice visitors to find out why their town puts a smile on Mona Lisa's face.
"First the railroad, and then major highways bypassed Sandwich. This campaign encourages drivers to veer from the roads most travelled and explore the town's hidden gems: galleries, theater, history, restaurants and amazing craftsmen. By partnering with the Sandwich Business Group we were able to help secure funding for the new Mona Lisa campaign."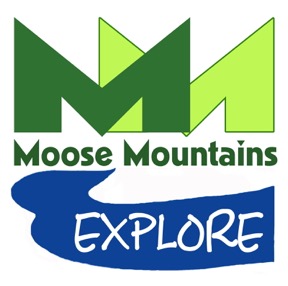 Roy-Palmer goes on, "We're hoping 'Discover Sandwich' will take off the way 'The Moose, New Hampshire' has. In its first year, the Facebook page has reached nearly 1,000,000 with news about events vacations, staycations, a night out, a new trail, and thousands of gorgeous photos taken in Brookfield, Farmington, Middleton, Milton, New Durham, Wakefield, and Wolfeboro. And it's not just people who live here. In a recent giveaway of 'The Moose' window clings, requests came from as far away as Mississippi and North Carolina."
The idea for 'The Moose' and its "Explore Moose Mountains" website first came about when an industrial trash hauler attempted to locate a for-profit dump facility off Route 16 in Milton. Alarmed that invasive activities like trash dumps, cookie cutter franchises, and harsh industrial activity would chew up their region's natural beauty and unique character, a grass roots group worked tirelessly to block its entry. Afterwards, they recognized that negative economic activity like a dump could be best countered by positive economic activity.
The group met for several years, and has partnered with the Strafford Regional Planning Commission and UNH Cooperative Extension researching the current state of the region and ways they could collaboratively strengthen small businesses, allow residents to work locally, and build the region's rural-based economy. Their report concluded that the area doesn't lack quality life resources, but that too few people know about all the WONDERFUL going on. They launched an informational and publicity campaign predicting that improved communication will "attract a broader variety of people to the area," "increase tax revenue and property values" and "relieve pressure from undesired developments."
In addition to The Moose, New Hampshire on Facebook, the group plans to expand into other social media platforms in 2018, and ExploreMooseMountains.org will see further development as a fully searchable site where folks discover great ways to enjoy the region, whether for a casual date night or wedding extravaganza, a vacation or staycation, ongoing activities and special events. Businesses and non-profits wanting to put The Moose to work for them are encouraged to contact WEDCO at info@WEDCO.org or call digital manager Barbara Wilson at 603.986.4191.
The Moose, New Hampshire/Explore Moose Mountains initiative is supported in part by a grant from the New Hampshire Charitable Foundation. Discover Sandwich has received funding through a generous grant from the Alfred Quimby Fund. WEDCO is the 501(c) (3) lead agent for both initiatives.
Celebrating 25 years in 2018, WEDCO is a private nonprofit 501c(3) regional economic development corporation that serves businesses of all sizes in the New Hampshire towns that include Brookfield, Effingham, Farmington, Middleton, Milton, Moultonborough, New Durham, Sandwich, Tuftonboro, Wakefield, and Wolfeboro. Contact Denise Roy-Palmer at 603-569-4216, drp@WEDCO-NH.org or visit www.WEDCO-NH.org to learn more. WEDCO's office hours are Monday through Wednesday, 9 am to 4:30 pm, and Thursday and Fridays by appointment. WEDCO is also on Facebook: https://www.facebook.com/WEDCONH/