WEDCO services right on target for Center Ossipee firearms business
OSSIPEE — On a dreary Friday morning, a customer walked into SiroTac LLC looking for some ammunition. If anyone has shopped for ammunition lately, you might have noticed that it is relatively hard to come by.
SiroTac LLC owner Chris Sirois and employee Jim Eldridge immediately recognized the gentleman who had walked in the door and knew exactly what he 
was looking for. And while the specific ammunition he ordered was still in route after being secured the previous week, they assured him they'd let him know when it arrived.
"Word is getting around that we have ammo," Sirois said. "A lot of places don't have it right now."
SiroTac is located right in the middle of Center Ossipee at 2 Folsom Road and is your local home for any firearm needs that you might have. And Sirois notes that he is hoping to keep things in a reachable price range for everyone.
"When I sell, I look up the manufacturer's suggested retail price and go under it," he said. "I try to beat everyone's price.
"Our customers, these are tools for them," Sirois continued. "They want something that works."
The business buys and sells used guns as well as new guns in addition to the aforementioned ammunition and offers all sorts of accessories as well. 
Sirois has a background in designing rifles, pistols and other firearms and he has also served as an operations manager for a manufacturer.
"I've been in the firearms industry for a long time," Sirois said. "I like the industry but I wanted to settle down, this is kind of like my retirement."
When it came to opening the brick and mortar part of his business, Sirois sought out the help from the Wentworth Economic Development Corporation, the local non-profit organization that works to help small businesses in the region meet their needs. WEDCO's mission is to promote and support businesses and the creation of employment opportunities by providing development assistance and financing.
"Without them, we wouldn't be here," Sirois said. "I'm really surprised with how much the Small Business Development Center (SBDC) helps with small companies and small businesses."
WEDCO Executive Director Denise Roy-Palmer noted that the organization was able to help Sirois with financing and a business advisor through the SBDC and additionally, they have helped him work on a marketing plan as well.
"They're helping us with social media and marketing," Sirois said. "They had some suggestions right away that I never ev
en thought of."
Drivers traveling north on Route 16 through Ossipee who have been stuck in the construction traffic may have had a bit of time to see the SiroTac billboard, part of the marketing plan to give the business some exposure in its infancy.
"We're learning and they're giving us a lot of support," Sirois said. "I feel a little guilty that it is almost free."

"We want our businesses to succeed, so we provide them with the resources to help them along," Roy-Palmer stated.Roy-Palmer pointed out that the SBDC is part of the Small Business Administration, which is funded by tax dollars. WEDCO partners with local businesses to help them get access to the funds and the assistance they may need as they move through the process of running a business.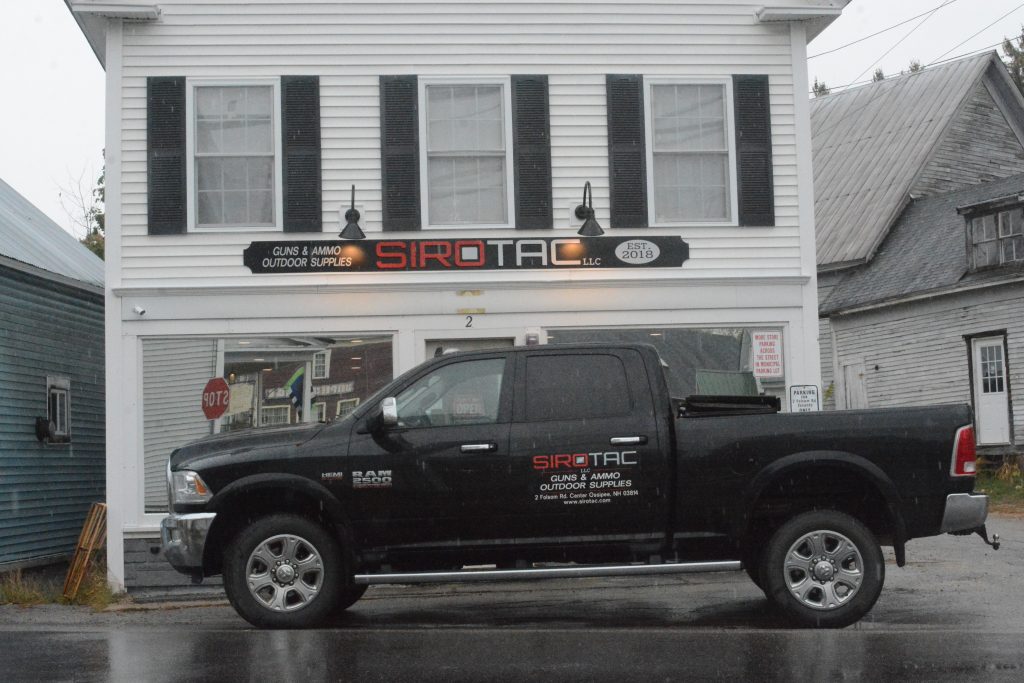 One of the most savvy moves Sirois may have made is hiring former Ossipee Police Chief Jim Eldridge. As it turns out, after being in town for decades, he pretty much knows everyone and everyone knows him, which always leads to conv
ersations when customers come in.
"Jim has been great here, everyone knows him," Sirois said. "It's not just a store, they come in and they hang out with him."
Sirois said despite being open for only a short period of time, they've already had a lot of repeat customers and all the customers they've met have been excited about having an option like SiroTac nearby.
As the business continues to grow, they anticipate some small archery accessories being part of the inventory, as well as some ice fishing accessories come winter time, though their space is limited at the time. Additionally, Sirois is now certified in suppressors (silencers) and can help you in that area as well.
SiroTac is located in downtown Center Ossipee at 2 Folsom Road. They can be reached at 651-1375 or you can visit sirotac.com for updates on what they offer.
For more information about WEDCO, call 569-4216.