WEDCO helps Décor Fleurish keep the dream alive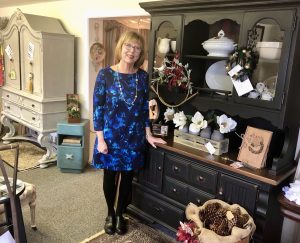 WOLFEBORO — Sometimes, making a dream come true can be a community effort.
For Phyllis MacDonald, Décor Fleurish is the culmination of a dream she's had for a long time and along the way, she received a nice helping hand from the Wentworth Economic Development Corporation (WEDCO)operation.
"I didn't know they were there and when I found out, it was a huge guide for me," said MacDonald. "Denise (Roy-Palmer, WEDCO's executive director) came over and we chatted, and she opened my eyes to what is available and the support you can get in this community that people aren't aware of."
Décor Fleurish is located on Lehner Street in Wolfeboro, right across the street from Huck's Hoagies and MacDonald notes that her main focus is painting furniture to sell or for custom work, but the shop offers her a chance to sell many other items, including home décor and vintage finds as well as things to help those who are seeking to do work themselves.
MacDonald said that she tries to pick a variety of styles, everything from French Country to Steampunk and Mid-Century Modern. Additionally, she is a vendor for Country Chic Paint and will soon become a retailer for Roycycled Treasures decoupage paper.
"I'll be leading classes online," MacDonald said. "I was hoping to do it in the store, but that's not possible right now.
"I plan on getting other DIY product lines, since so many people have been requested DIY products they can use at home, doing that," MacDonald said. "I want to be able to assist them in with different areas mediums and with products they can get locally."
The store had an up and down start. Décor Fleurish opened on Dec. 17 of last year but then had to close due to the COVID-19 pandemic on March 15. MacDonald opened the store again on July 1.
"I had a desk job and I dreamed of this," MacDonald said of her store. "I never thought it would come to fruition.
While she was working her desk job, MacDonald started painting furniture and started a Facebook business page where she would just post pictures of her work and she gained a lot of followers doing that. She took classes in business and started doing all the prep work for opening a store without thinking she would actually do it.
Roy-Palmer noted that the USDA-RD RMAP Technical Assistance rural development grant program that WEDCO was awarded had received back in May was a perfect fit for MacDonald.
"The timing was perfect, businesses were having to transition into a whole new business model," Roy-Palmer said. "It worked out very well.
"Most of the awards so far have been businesses looking for an online presence," Roy-Palmer said.
Roy-Palmer was able to get MacDonald set up with MoxDog Media Solutions, a Wakefield digital agency, to set up a web site for the new store. MoxDog Media Solutions has more than 17 years of experience helping businesses grow with website development and design, social media management, and search engine optimization.
"We are so thankful to WEDCO and the SBDC for the opportunity to match us as a local service provider to meet the digital marketing needs of other local businesses. It is their leadership and local business advocacy that makes this project possible," said Jen O'Neill, web designer and owner of MoxDog. "Having a great web site does a lot for your business, it acts as a digital salesperson that is on duty 24/7 and helps potential new customers find your products and services.
"Decor Fleurish is a great addition to Wolfeboro and the work Phyllis does is amazing. The website decorfleurish.com will allow customers to get a peek at her offerings, drive foot traffic to her creative retail store in Wolfeboro and allow her to sell products through an online shopping cart. Through this grant, we were able to provide Phyllis all her digital marketing needs to include a website, hosting, and initial search engine optimization that for a lot of small businesses can be cost-prohibitive," O'Neill noted.
MacDonald has also taken advantage of the small Small Business Development Center (SBDC) business advisor offered through WEDCO. Amy Sterndale has been a huge help to MacDonald as she continues moving her business forward.
"She is always available to me," MacDonald said. "It's not always business, she's a great sounding board."
"With any small business with one person, there's so much to do," Roy-Palmer said. "We all need a sounding board."
Anyone looking for more information on what Décor Fleurish has to offer can visit decorfleurish.com or stop by on Lehner Street.
"This was my dream," MacDonald said. "It brought my family to tears when it happened."
And with help from across the community, the dream became a reality.
WEDCO's service area includes Brookfield, Effingham, Farmington, Milton, Middleton, Moultonborough, New Durham, Sandwich, Tuftonboro, Wakefield, Wolfeboro, and the surrounding communities.
Anyone looking for more information can visit WEDCO's website at wedco-nh.org/grants where the grant and loan applications are available. WEDCO's office is located at 15 Varney Road in Wolfeboro and also can be reached at 569-4216 or email: tagrants@wedco-nh.org