The Olde Ways at Mustard Seed Farm's Apothecary & Farm Store is Now Open
TUFTONBORO — Dina Farrell had an idea for a small farm store on her property in Tuftonboro, one where she could sell the herbal products that she had been selling at farmers'
markets and fairs around the area for many years.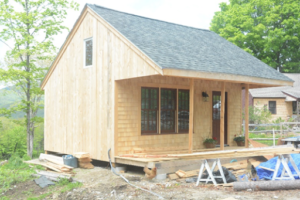 She brought her idea to the Wentworth Economic Development Corporation (WEDCO) and on June 5, Olde Ways at Mustard Seed Farm celebrated its grand opening.
"I went to WEDCO, told them my plans and they put it all together for me," said Farrell. "And now it's happening.
"I've always wanted my own apothecary farm store and to have a building that is dedicated to that is wonderful," Farrell added.
Farrell has been an herbalist for two decades, making her own line of herbal products and teas that she has sold around the area and during her time selling her products at various markets and fairs, she had gotten to know a lot of different vendors. Many of them are going to be a part of the new farm store, which will be focused on local products.
She notes that the plan is to offer local honey and beeswax candles, jams and jellies, soaps, artwork by local artists, jewelry, wood turning and even small wool animals made by a local crafter. Farrell also plans to have baked goods available on the weekends and there will be herbal remedies and CBD products for those who are interested "Plus, we'll have all the farm products, such as eggs, plants and herbs," Farrell explained. "It will be all-inclusive. It will be an everything store."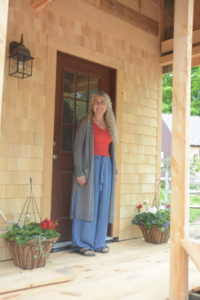 She is also hoping to expand a lot on the types of teas she can offer, but notes that the store will not depend solely on her herbal products, but on the many local vendors who will provide the wide variety of items for the store.
Farrell and her family used to have a larger farm in the area, but about six years ago they downsized and bought the property on Ledge Hill Road that is Mustard Seed Farm. While they got out of the farming business mostly, they still have one of their old milk cows, named Lilly, and a Scottish Highlander named Saffron, who is a bit of a local celebrity around Tuftonboro. Additionally, they have a horse and a mini horse and some chickens on the grounds of the farm.
The building that will be housing the farm store was almost complete in a mid-May visit and Farrell said that it originally was a bit smaller, but they insulated it and made it a bit more than expected and there is already an addition planned as well.
And since the business is focusing on the local, the building was built using wood that was harvested locally and milled right down the road from the farm. "And people donated all sorts of things they thought we might need," Farrell said, noting they had a long wooden store counter that was given to them that will be put to good use.
Originally, the plan was to open to the public last spring, but the COVID pandemic and problems with a contractor led them to push off the grand opening by a year, but she is excited to get going.
Farrell offered her thanks to WEDCO for making the project happen. She had worked with the local non-profit organization at her former farm, when the family installed a large greenhouse and knew that WEDCO would be the right fit at Mustard Seed Farm as well.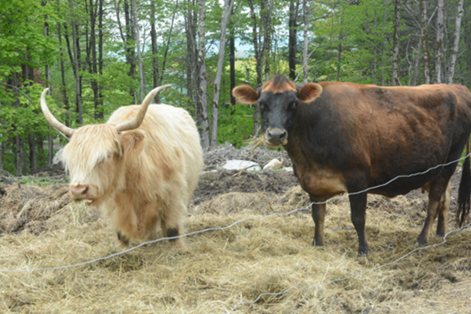 "Conventional lending would have been so much more difficult," Farrell pointed out. "WEDCO does a great job of supporting the local small businesses.
"WEDCO funded the majority of the cost of the building and it's not cheap to build these days," she added.
The Olde Ways at Mustard Seed Farm is located at 176 Ledge Hill Road in Tuftonboro. Those interested in Farrell's products can visit theoldeways.com or e-mail mustardseedfrm@yahoo.com.
WEDCO's mission is to promote and support businesses and the creation of employment opportunities by providing development assistance and financing. WEDCO's service area
includes communities in Southern Carroll County and northern Strafford County.
Anyone looking for more information about loan programs, business advising services, etc. visit WEDCO's web site at wedco-nh.org. WEDCO's office is located at 15 Varney Road in Wolfeboro and also can be reached at 569-4216 or e-mail info@wedco-nh.org.