Our Business is Helping Business
WEDCO's mission is to promote and support businesses and the creation of employment opportunities by providing development assistance and financing.
The purpose of WEDCO's financing is to retain and create employment opportunities for area residents.  The primary criteria is the retention and/or expansion of the regional employment base, leveraging additional financial resources, and demonstration of the borrower's ability to repay.
WEDCO is a private nonprofit 501 (c)(3) regional economic development corporation serving businesses of all sizes in the New Hampshire towns of Brookfield, Effingham, Farmington, Milton, Middleton, Moultonborough, New Durham, Sandwich, Tuftonboro, Wakefield, Wolfeboro, etc.

Dr. Renee Tetreault cites whole body, whole life benefits of chiropractic care WOLFEBORO — Just in time for those New Year's resolutions for better health, Dr. Renee Tetreault opened In Good Hands Chiropractic, PLLC, on Elm Street, an endeavor brought...
read more
Off the beaten track, but worth the stop WOLFEBORO — The Mill Street Meat Market, a favorite among locals and seasonal visitors alike, celebrates 11 years in business this summer with an expanded product line, a full array of premium beef, lamb and pork –...
read more

No Results Found
The page you requested could not be found. Try refining your search, or use the navigation above to locate the post.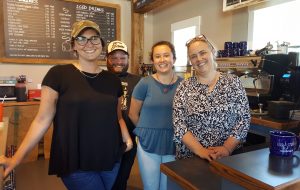 Despite running into roadblocks when it came time to obtain financing from traditional banks, Kimberly Prause, owner of the Cup and Crumb in Moultonborough, turned to Wentworth Economic Development Corporation (WEDCO).  From WEDCO, she received a $65,000 loan to work in concert with a construction loan from Meredith Village Savings Bank.
"Without WEDCO, I don't think we would have opened," Kim says, looking back. And certainly, Cup & Crumb would never have become an anchor in the newly opened Berry Pond Corner with two full-time and 12 part-time employees in summer, and 8-9 staff in winter.
Kimberly Prause
Thank You to Our Partners
Our Region
WEDCO provides economic development services to the businesses and communities of Brookfield, Effingham, Farmington, Milton, Middleton, Moultonborough, New Durham, Tuftonboro, Wakefield, Wolfeboro and surrounding New Hampshire communities.